3-Day Detox Tea - Sample Pack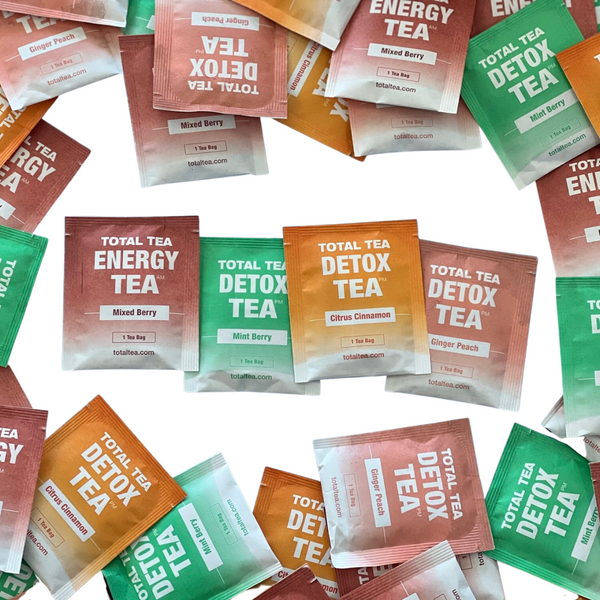 3-Day Detox Tea - Sample Pack
3-Day Detox Tea - Sample Pack
has a rating of
4.8
stars based on
63
reviews.
3 Day Detox is a 3 Day Trial of our Best Selling Detox Tea. Order because it tastes good.  Reorder because it works! 

SAFETY SEALED:  individually wrapped for your protection.
Why do Doctors Recommend Total Tea?
1200+ doctors have sold and recommended Total Tea for over 15 years. 
 Total Tea reduces inflammation in the digestive tract.

Many people take probiotics to promote gut health. This is a waste of time if your digestive tract is inflamed because healthy bacteria do not survive amidst the inflammation. Total Tea reduces the inflammation so that the healthy bacteria naturally produced by your body can survive and thrive! 

Total Tea promotes sleep.

Nearly all customers who drink Total Tea before bed report that they sleep better. Chamomile has long been regarded as a nighttime tea. Drinking tea before bed can be a great way to relax and unwind the day so that your body can rest well. Total Tea is caffeine free.

Total Tea is a natural immune system booster.

Echinacea and Rose Hips are well know for their ability to help give a boost to the immune system and are regularly used as a natural option to fight bacterial and viral infections. 

Total Tea mobilizes undigested food.

Gynostemma and Senna are two ingredients that assist in the colon cleansing effect produced by Total Tea. These ingredients clean out the digestive tract, which can help reduce those who always feel "full". 
AM/PM Regimen
AM 

- Drink Energy Tea in the morning for more energy and increased metabolism.

PM 

- Drink Total Tea Gentle Detox Tea in the evening for a gentle cleansing and improved digestion.
Ingredients:
Echinacea 

stimulates the immune system & contains anti-inflammatory components.

Gynostemma 

helps eliminate waste and toxins from the body & accelerates metabolism by adjusting blood sugar and reducing blood fat.

Papaya 

helps digest protein in the body and acts as an anti-inflammatory & helps prevent indigestion.

Peppermint 

soothes and comforts the stomach, promoting healthy digestion & helps with the treatment of ulcerative conditions of the bowel and intestinal colic.

Cinnamon 

is used to combat microorganisms, diarrhea and other GI disorders, and has anti-oxidant properties.

Hibiscus 

treats constipation and inflammation.

Ginger 

relieves indigestion, gas pains, irritation to the intestinal walls, diarrhea, and stomach cramping.

Rose Hips

 

are beneficial for constipation, infections and bladder problems. Excellent nutritional supplement and helps prevent colds.

Chamomile 

contains anti-inflammatory properties that soothe the digestive tract and other inflammatory conditions of the digestive system.

Senna 

is a cleansing herb that relieves constipation, increases peristalsis, and helps soften stools.
Testimonials
What is Total Tea Detox Tea?
Our tea has been crafted with love to help remove toxins from your body, reduce overall stress levels, and help you feel more energized. This tea supports healthy digestion by easing bloating, constipation, and other stomach woes. Featuring a delicious blend of ginger, Echinacea, cinnamon, peppermint, papaya, chamomile and other beneficial herbs, Total Tea both supports overall immune and digestive health and provides a delicious break from the fast pace of modern life. 
Why do you need to detox?:
The best way to kick-start a diet is to detox your body so that you start fresh. Your raging appetite is the result of the buildup of toxins in your body. When toxins build up, your body is no longer able to successfully digest and absorb all of the nutrients in your food. This leaves you feeling hungry because your body is craving nutrients that are crucial for normal body function.

Despite the fact that you may be eating a sufficient amount of food, you still find yourself hungry an hour after eating. When you remove all of the toxins in your body, you should be able to effectively absorb the nutrients from your food.

Our tea contains ingredients that have been used for years for removing toxins, cleaning the colon, losing weight, and suppressing appetite. The best part? Total Tea Detox Tea is delicious and it is gentler on the digestive system than other teas.*
Detox Tea Tips for Best Results
Clients typically get results within 1-3 days, but it can take longer depending on the age, weight & other factors. We recommend drinking 1 serving of detox in the evenings for a minimum of 1 week to see the benefits and then adjust as needed.

If the results are too strong decrease the steep time and/or the amount taken.

If you need something a little stronger, increase the steep time and/or use less water. If that still isn't doing the trick, you can drink 1 serving in the morning and 1 in the evening. Once you begin to experience the detox effect, drop back down to 1 serving in the evenings.

And as with any detox, DRINK PLENTY OF WATER!
Additional Benefits
Total Tea Detox Tea herbs are known to help with symptoms related to the following conditions:
Restore overall digestive function
Detoxification 
Relieve Constipation 
Increase peristalsis (forward movement) 
Improve food digestion performance 
Increase circulation 
Prevent intestinal spasms 
Reduce nervousness 
Reduce gas production 
Reduce bloating and cramping 
Remove yeast & other "bad" bacteria from the system 
Inhibit "bad" bacteria production 
Improve "good" nutrient absorption 
Reduce irritation & inflammation of intestinal walls 
Improve immunity
Total Tea herbs are known to help with:
Constipation
Irritable Bowel Syndrome (IBS) 
Inflammatory Bowel Diseases 
Ulcerative Colitis 
Crohn's 
Proctitis 
Indigestion 
Candida Yeast Overgrowth, Candidiasis 
GI Ulcers 
Gastroenteritis 
Chronic Fatigue Syndrome 
Diverticulosis, Diverticulitis 
Acid Reflux 
Bad Breath (Halitosis) 
 Stomach pain 
Diarrhea
How Total Tea  is different from other products:
All Natural
Naturally Derived Ingredients
Can be consumed hot or cold
No fillers or preservatives
No artificial flavors or colors
You can take it safely everyday 
Total Tea body detox tea reduces inflammation
Lose Weight
Non-Addictive Tea Cleanse
Caffeine Free 
Total Tea promotes whole body wellness and function
Non-GMO, Gluten Free, Kosher Certified, & Vegan Herbal Colon Cleanse Tea
Made in the USA 
Doctor Recommended 
Mommy Approved
Money Back Guarantee!
If you use Total Tea herbal colon cleanse tea for 60 days as recommended and you are not 100% satisfied with the results, we will issue you a full refund. 
United States:
2-3 Day shipping is always free!
International:
International shipping rates and times vary based on location. We use USPS First Class Mail International to ship international.
60 Day Gaurantee
If for any reason you are not satisfied with your purchase, simply call or text 806-855-3755 within 60 days and we will give your money back!
Back to the top