Turmeric Curcumin - Advanced 2X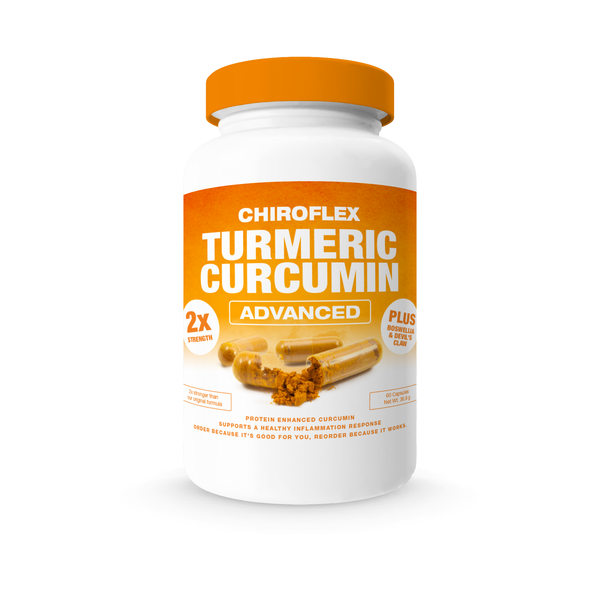 Turmeric Curcumin - Advanced 2X
Turmeric Curcumin - Advanced 2X
has a rating of
5.0
stars based on
1
reviews.
Order because it's good for you. Reorder because it works.
One capsule of our Advanced formula is equivalent to two capsules of our original Chiroflex Turmeric Curcumin. One bottle is a 2 month supply if taking the maintenance dose (one per day). Now you can decrease the amount of capsules you have to take to get twice the results! 
Our Advanced formula features dairy free, clinical strength Turmeric Curcumin, Devils Claw extract, widely studied for its benefits in balancing inflammation, and pure Boswellia (frankincense), also known for its anti-inflammatory properties. 
What is Chiroflex?

Chiroflex is Protein Enhanced Turmeric Curcumin. Curcumin alone does not absorb in the body. It needs something to help it absorb. While some people use black pepper or liposomes, Chiroflex is bound to a brown rice protein molecule making it highly bio-available. 
Why is ChiroFlex the best Curcumin/Turmeric Natural Joint Supplement for you?
Bioavailability is simply the body's ability to absorb nutrients. We discovered that binding liquid curcumin with brown rice protein (one of the fastest absorbing proteins) would improve the turmeric curcumin's absorption even further than the whey protein. The result is Chiroflex Advanced, a proprietary curcumin complex that is nearly fully absorbed. 
Try a new level of curcumin bioavailability.
What does ChiroFlex do?
Our Curcumin supports a healthy inflammation response. Inflammation is at the root of many ailments.*
ChiroFlex is a natural Curcumin supplement that has been clinically tested and proven to unlock the benefits of curcumin unlike few have seen before.*
Turmeric/Curcumin Research:
Anti-Inflammatory
Research has shown that curcumin naturally restrains and supports a healthy inflammation response.*
Antioxidant
Curcumin has been well researched for its ability to neutralize free radicals and stimulate the body's own antioxidant enzymes.*
Brain Function
Research shows that curcumin can boost the brain hormone BDNF. 
Target Inflammation and Stop Treating Symptoms
The problem with pharmaceutical companies today is they create products that treat the symptoms so that you have to keep coming back and you never actually heal the way your body intended for you to. If you have pain, they give you a pain reliever. Stop treating symptoms and get to the root!*
Curcumin goes to the root of the problem. A majority of all joint related pain is caused by inflammation in the joints. Curcumin has been well studied proving it supports a healthy inflammation response.*
Inflammation is the Real Culprit!
Trauma or stress can lead to chronic inflammation. Chronic inflammation is long-term inflammation, which can last for several months and even years. Chronic inflammation can eventually cause several diseases and conditions. Appropriate action can support a healthy inflammation response before it becomes a problem. *
The Chiroflex Difference
Chiroflex is curcumin re-imagined. Curcumin and turmeric are some of the most widely researched natural supplements in the medical industry. The scientists at Chiroflex spent years researching ways to increase bioavailability and absorption of curcumin. The result is Chiroflex & Chiroflex Advanced!
More Information
IS IT SAFE?
All of the ingredients in our natural joint supplements come from nature.    We only use the highest quality 100% ORGANIC VEGETARIAN CAPSULES and our PURE CURCUMINOIDS are STANDARDIZED to 95%! We proudly make our natural curcumin supplements in the USA with a laboratory that meets cGMP standards and is FDA inspected.
Turmeric Curcumin is a natural blood thinner similar to aspirin or ibuprofen. If you are taking medications, such as blood thinners, please consult your physician before taking our product.   

WARNING: If you are pregnant, nursing, taking any medication, planning any medical procedure, or have any medical condition, consult your doctor before use. Do not use if you are taking any blood thinners without consulting your doctor. Discontinue use and consult your doctor if any adverse reactions occur. Keep out of reach of children. Store at room temperature. Do not use if outer safety seal is broken or missing.

*These statements have not been evaluated by the Food and Drug Administration. This product is not intended to diagnose, treat, cure, or prevent any disease.
HIGH ABSORPTION
Brown Rice Protein is one of the fastest absorbing proteins on the market.  Customers report results within 2 hours! 
ALLERGEN INFORMATION:

No known allergens
Empty Bottle Guarantee!
Empty Bottle Guarantee: We strive to ensure that all of our customers are completely satisfied with ChiroFlex. Because of this, we offer a 30 day, empty bottle guarantee. If you use the ChiroFlex natural curcumin supplement for 30 days as recommended and you are not 100% satisfied with the results, we will issue you a full refund. All you have to do is return the empty bottle and we will give you your money back.
Disclaimer: Results may vary from person to person.
Frequently Asked Questions
See All Frequently Asked Questions
How can I get maximum benefits?
Taking on an empty stomach and drinking plenty of water will help improve absorption.
Secondly, if you believe your circumstances to be severe this is NOT something that we recommend without medical practitioner oversight.  However, talk to your doctor about your case and taking up to 2 capsules two to three times a day for 2-3 days to see better results. 
Not all discomfort is supported by a healthy inflammatory response. If you have a bulging disk impinging on a nerve, no amount will help.
United States:
2-3 Day shipping is always free!
International:
International shipping rates and times vary based on location. We use USPS First Class Mail International to ship international.
60 Day Gaurantee
If for any reason you are not satisfied with your purchase, simply call or text 806-855-3755 within 60 days and we will give your money back!
Back to the top