Energy Tea - Mixed Berry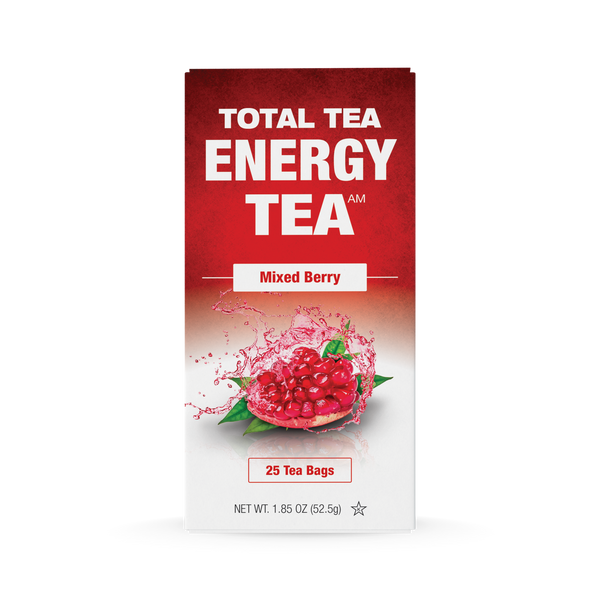 Energy Tea - Mixed Berry
Energy Tea - Mixed Berry
has a rating of
4.8
stars based on
192
reviews.
Total Tea Energy Tea
Order because it tastes good. Reorder because it works!
1200+ Doctors have sold and recommended Total Tea for over 15 years.
Total Tea Herbal Energy Tea provides a delicious and uplifting blend of the finest natural herbs made to boost energy levels, reduce mental fatigue, aid memory, and promote weight loss.
Energy Boost: Naturally caffeinated and full of antioxidants.
Morning Energy: Perfect for morning energy, alertness, and a clear mind.
High Antioxidants: Includes ORAC antioxidant values of 58uM per gram!
Weight Loss Support: Includes green tea and increases metabolism.
100% Natural Tea Bags: No artificial flavors, colors or preservatives.
Drinkable Daily: Drink 1-3 servings daily as needed.
Guaranteed Refund: If you are not satisfied, simply contact us for a full 30 day money back guarantee!
Total Tea Herbal Energy Tea is recommended by over 1200 Doctors for appetite control and memory aid. The energy tea blend is 100% natural with no artificial flavors, colors or preservatives, gluten-free, and kosher certified. The best energy tea to compliment our Gentle Detox Tea.
AM/PM Tea Regimen
AM 

- Drink Energy Tea in the morning for more energy and increased metabolism throughout the day.

PM 

- Drink Total Tea Gentle Detox Tea in the evening for a gentle cleansing and to support your digestive health.
Directions
Place 1 herbal energy tea bag in 1 cup of hot water, steep for 4-6 minutes, and stir occasionally for best results. Drink 1-3 cups of energy tea daily as needed.
Herbal Energy Tea Ingredients
Guayusa contains L-theanine, shown to support the effects of stress from everyday life. Guayusa also contains all of the essential amino acids for humans.
Green Tea extract powder with 50% caffeine increases metabolism & works to intensify levels of fat oxidation while supporting a healthy level of glucose and a healthy blood sugar level.
Cinnamon Bark contains antibacterial, antiseptic, antiviral, antispasmodic, and anti-fungal properties.
Eleuthero Root is a strong antioxidant, supports a healthy immune system, and is an energy stimulant.
Ginseng Root soothes the nervous system, supports healthy blood sugar levels, and stimulates the endocrine system.
Energy Tea Benefits
Diet and Energy Boosting: Total Tea Energy Tea is naturally packed with caffeine and antioxidants for improved Mental Focus and Energy Boost.
High Antioxidant Blend with ORAC antioxidant values of 58uM per gram, compared to 28-29uM per gram for commercial green teas.
Great way to naturally and safely suppress appetite and assist with a healthy detox, diet, or weight loss regimen.
You can safely drink Total Tea Energy Tea everyday.
Energy tea herbs are known to help with symptoms related to the following conditions:
Cholesterol Levels
Obesity
Insomnia
Angina
Mental and Physical Fatigue
Weight Control
Total Tea Herbal Energy Tea may help:
Lower Cholesterol (LDL)
Weight Management
Improve Glucose and Lipid levels
Sexual Vitality
Maintain healthy Antioxidant levels (+ Catechins)
Physical Endurance
Cardiovascular Health
Digestive Support
Ability to Focus / Improve Memory
Aid in Elimination
Support Healthy Levels of Free Radicals
Increase Your Energy With Total Tea Herbal Energy Tea
Boost your energy today with our Doctor Recommended Herbal Energy Tea! Order because it tastes good. Reorder because it works! Free shipping on all U.S. orders.
Money-Back Guarantee
If you use Total Tea's Herbal Energy Tea and you are not 100% satisfied with the results, we will issue you a full refund.
United States:
2-3 Day shipping is always free!
International:
International shipping rates and times vary based on location. We use USPS First Class Mail International to ship international.
60 Day Gaurantee
If for any reason you are not satisfied with your purchase, simply call or text 806-855-3755 within 60 days and we will give your money back!
Back to the top